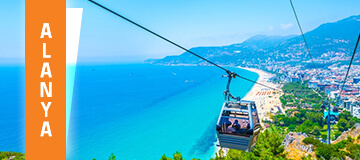 Book Reliable Transportation

When you visit a new country, whether on a leisure trip or for business, you need to make good travel arrangements well in advance. The last thing you need is to be stranded without access to reliable transportation. Fortunately, you can book all of your transportation online from the moment you step out of the airport to the moment you leave for your home country. Antalya airport Alanya shuttle transfer is the most common request in this city.

Antalya Airport Alanya Shuttle transfer

If you plan to visit Antalya this summer, you can start your travel arrangements by arranging for the shuttle transfer. Most people visit the Antalya region during the summer to enjoy the wonderful Mediterranean weather and the beaches at Alanya. You can prebook cheap Antalya Airport to Alanya shuttle transfer. There two different types of shared transfer in Antalya. The speedy shuttle is provided with a minibus and usually maximum 4 stops. If you prefer shuttle transfers with coaches, you will be drop off nearest accessible point.

How Much Time Antalya airport Alanya Shuttle Bus Takes?

Alanya is around 130kms away from the Antalya International Airport and it usually takes around 2 hours to cover the distance. The duration of the trip can vary based on traffic conditions, stops and rest breaks, and other such factors. You can expect to reach Alanya in around 2 to 2.5 hours easily, especially if you book transportation in advance. Reliable shuttle service providers will take the best possible route to take you to your destination and ensure you reach your hotel on time.

What Are Your Antalya Airport Transfers Options?

Travel companies and shuttle services offer different options and you can choose them based on your requirements and budget. Here's a brief introduction to the commonly available options in Antalya:

This is ideal for 1 to 3 travelers who want the comfort and privacy of a personal car and the convenience of a knowledgeable and skilled driver. Private cars are usually more expensive compared to shared shuttle transport but they offer custom services. You don't have to wait at the airport and immediately leave for Alanya.

A minivan is ideal if you're traveling in a small group and want to save money as well. These vans are only slightly more expensive than private cars but they can easily transport a larger number of people. You can split the fare with your fellow travelers and save money on the transport.

If you're traveling in a large group, you need a coach. These vehicles are usually hired by tourist companies and corporate establishments because they can comfortably accommodate several dozen people at a time. Coaches also have entertainment systems, good seats, and air conditioning systems to ensure the passengers are comfortable. This is the most affordable option if you intend to split fares with your fellow travelers.

What Should You Expect from Shuttle services?

Shuttle services are usually prompt and will arrive for pickup at the Antalya Airport before you're due to land. If there are any delays, you can expect the service provider to inform you in advance. It's a good idea to keep the contact details of the shuttle service provider on hand at all times to ensure you can contact them immediately if there's a problem.

You should also consider the fee structure, conditions, exclusions, and taxes carefully before you book. Shuttle service is an easy and convenient way to get from the airport to your hotel in Alanya without the hassle and on time.