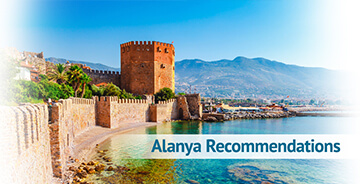 Alanya Recommendations

The words Klikya or Pamfilya may not mean anything to many people who have come to the Alanya peninsula, but it is necessary to go down to the roots of Alanya and to fall back on their historical riches.
Although it is not known who first established Alanya, where the Mediterranean is located, in the south of the Taurus Mountains in the north, the name Klikya or Pamfilya in ancient times and Kalaronos in the Byzantine period are indications that they hosted many ancient civilizations.
Alanya, which became the second capital of the Seljuks, offers many options to those who want to visit the region with its history as well as its known tourism paradise, geographical and natural beauties.
Now let's talk about these beauties and options and enter the details of Alanya all together…

Alanya Castle

Alanya Castle, which has become the symbol of Alanya, was built by the Seljuk Sultan Alaadin Keykubat. Its walls, which are about 7 km long, start from Kızılkule and end at the other end of Kızılkule. The castle, which still has settlements, has many architectural structures. We recommend that it is one of the first places to visit after passing from the airport to your hotel.

Cleopatra Beach

The Cleopatra Beach is free. With its blue-coloured beaches, which have proven itself internationally as it is a blue flag beach, it contributes great to making Alanya one of the main holiday destinations in the world. The beach, which takes its name from the Egyptian Queen Cleopatra, is renowned for her coming here in the Mediterranean every year and swimming in the sea, thereby inheriting it.
Dim Stream
If entering the warm Mediterranean overwhelms you, you can go to Dim Stream and cool yourself in ice cold water. If you want to rest a little in a natural and calm environment, you can choose here.

Suleymaniye Mosque

Another mosque built during Alaaddin Keykubat period, this mosque is a rare work that reflects Seljuk and Ottoman architectural features. The mosque, which was rebuilt during the reign of Suleiman the Magnificent as a result of the lightning strike, has reached its full magnificence as we see today.

Damlatas Cave

Damlataş Cave is one of the important places of Alanya in terms of health and tourism with its stalactites known to have started 15000 years ago.
The air of the cave has been completely protected from the external environment and it has been determined that the cave environment is good for asthma. Patients who come here for treatment must first get a report from the doctor to enter the cave, and then they must pay a small amount for treatment in the cave.

Great! So how can I come?

Yes, we have come up with the most critical and truly questionable question, because this is how your holiday begins. It is not necessary to say that we cannot easily enjoy an unplanned and unscheduled holiday, even if you decide to come to Alanya a few months ago, even your flight tickets, your hotel, the transfer service that will take you to your hotel and even the activities you will do in Alanya will start flying in your mind.
Be careful how we start, or be careful, if you come to Alanya from Antalya Airport, you will need to travel 3 hours, and if you come to Gazipaşa Airport, you will have to travel 1 hour. After determining your airport preference, it is time to transfer…
There are many transportation alternatives, of course, but no matter what you come to Alanya, it should be your first choice to reach the determined point comfortably without stress, even for a holiday or for a business
You can purchase a privileged transfer service with different transportation alternatives of Bizim Transfer, whether comfortable but affordable or with private vehicles.
Moreover, all you have to do is create your reservation just by entering the website and the rest will develop automatically.
You will pass to your vehicle with the staff at the airport waiting for you at the exit of the airport and you will be able to reach your destination safely.
In short, it is also nice to come to Alanya as to visit it. Do not leave open your transfer to unpleasant surprises; just like flight tickets and hotel reservations, transfer service is also one of the most important factors that will add value to your holiday.
Stay with pleasure and health…