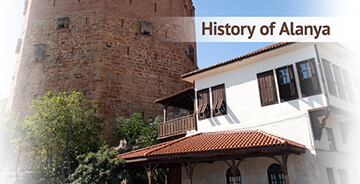 History of Alanya
Antalya is one of the most popular holiday destination in the World and the most attractive city is of course Alanya. Alanya is 120 km far from Antalya Airport. Alanya incredibly beautiful with its sandy beaches, green Taurus mountains, luxury hotels, attractive city life, and of course with its historical places. Simp you have to see Alanya before you die.
Alanya has a rich history and the city ruled of Ptolemaic, Roman, Byzantine, and Ottoman empires. The city has historical monuments from 11th century
Alanya Red Tower
Alanya Red tower is one of the symbolic icons for Alanya. It is situated in the city center of Alanya, next to the cruise ship
The red tower is Seljuk monument and builds up at 13th – century for military defense. It is built in an octagon shape. on the roof terrace, you will get stunning sea and Alanya view.
Alanya Castle
Alanya castle is like a peninsula from Alanya center. Alanya castle was built in 11th century by Seljuk to defense the city. It is about 7 km walş with its 140 towers. Alanya castle is welcoming you with its gorgeous day and night.
The oldest mosque of Alanya Situated in Alanya castle and its called Suleymaniye Mosque. The mosque renovated and still used for Muslims. When it's not occupied it is available for visitors. However, when you are entering inside ladies must cover your hair.
You can also visit the old Alanya house in the castle. This is a traditional old Alanya house. You can buy silk cashmere here as a present.
How to get Alanya Castle
There is a public bus from the city center to Alanya castle and it is only 50 cent. You can also get by cable cabin and it cost 15 TL per person. And the taxi cost about 20 TL.
Syedra Antic City
Syedra is approximately 20 km away from the Alanya. The city is entered by a monumental gate which is still standing in the west.
Alanya Archeological Museum believed to extend until the 7th century. This is the oldest historical place around Alanya. You can enter from the monumental gate which is still standing.
It is not a taxi or bus to get to Syedra, the best way to get Syedra is to rent a car.
Airport Transfers to Alanya
Airport transfers to Alanya easy with Bizim Transfer. There is 2 international Airport close to Alanya. Antalya Airport is about 120 km from Alanya and it takes about 2 hours. There is shuttle bus and private transfers option available with Bizim Transfer. Alanya-Gazipasa Airport is about 45 Km from Alanya city center and it takes about 1 hour. Shuttle bus transport and private transfers available.