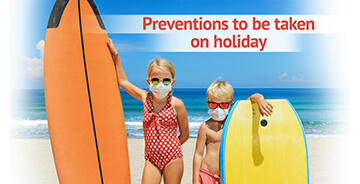 How Should Our New Holiday Understanding Be?
We are now entering a new era with the lethal coronavirus epidemic, which has given the world a red alert. From now on, the fact that nothing will be the same as before has become the common opinion of all experts; how can we normalize, what should we pay attention to while normalizing, and how we should shape our understanding under the shadow of the coronavirus, these are the things we will cover.
There is a fact that we must get used to live with coronavirus. Neither should we make life unbearably stationary nor should we go back to our life without social distance as before. As it is true for everything, if we take care of ourselves and make plans that are appropriate for our new way of life, we can return to our homes from a high quality, pleasant holidays.
Because the holiday is a necessity for all of us, we need to add new and important details to our holiday planning. As people working most of the year for holiday, we are already working in detail for a limited time week or two. These new details added would be valid from the time you leave your home to the time you enter your home again. We must keep in mind that we need to work with businesses and companies, which makes our work easier by caring about these new normal details.
Complete your preparations before leaving your home.
Make sure that you have enough masks, hand sanitizers and all the materials related to your personal hygiene in such a way that they will not leave you in need.
Attention to the airport!
Be careful to follow the social distance rules at the airport, try not to eat or drink tea, coffee or anything to avoid taking off your mask for a moment.
Use airport transfer service.
Getting transfer service will be one of the best decisions for you and your family in this process. You can make your sheard or Vip transfer reservation on Bizimtransfer.com, you can reach the desired location comfortably and safely through Bizim Transfer with your masked deriver that complies with special social distance rules.
Make sure your hotel complies with the Coronavirus measures.
For those who want to stay safely in isolated rooms where coronavirus measures are taken, the main measures taken by the facilities are as follows:
Food and drink that supports the immune system
Warehouse and Food Safety inspection
Rooms left empty for at least 24 hours
Rooms left empty for at least 48 hours
Rooms left empty for at least 72 hours
Safe Social Distance regulation in common areas
Disinfection with Ozone and ULV Machines
Periodic open space disinfection
Periodic closed area disinfection
Textile products are washed at 90 degrees
Be careful not to get service from businesses that not observing these precautions, not sharing cleaning / hygiene rules, measures taken with regard to guest safety. Likewise, these precautions are under the supervision of the Ministry of Health and will be subject to strict inspections. If you are disappointed in this regard, you should not hesitate to contact the authorities.
Pay attention to social distance on the beaches!
First of all, we have to say that swimming in the sea is a safer and right choice than swimming in the pool. So how should the environment be on the beaches you go to swim?
At the entrance of the beach, you should meet the rules rules that should be followed at the beach, all the precautions should be presented to the visitors, written.
Disinfectants should be available at the beach entrance; you should use these disinfectants while entering and leaving
Mask and glove waste bins should be kept ready, you should dispose of such wastes only in these bins.
Social distance zones should be separated on the beach; you should pay particular attention to this, as you should pay attention to the distance between the sun loungers. Also do not forget the distance between you and the people when you go into the sea.
In summary, it is obvious that everything will be easy if everyone does their part, companies will play an important role here.
Wish you good and healthy holidays…