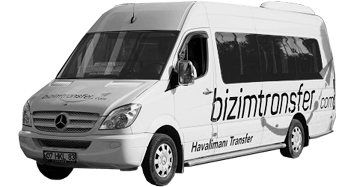 Shared Shuttle Transfer
Shared transfer provides you an economic and environmentally friendly transportation. With shuttle transfer, you can access better prices by sharing your vehicle with other passengers wishing to find a lift in the same route.
You can make a reservation for Shared shuttle transfer online from our website, or through phone. You will receive a confirmation SMS or e-mail after you've successfully completed a reservation. Please check your confirmation e-mail or SMS for any mistakes, and reach out to us if you need to. For contact, please click this link https://www.bizimtransfer.com/en/contact
Once you have purchased a shared shuttle transfer service, a receptionist with the company logo will meet you at the airport, and after checking in with your reservation, lead you to the vehicle.
https://www.bizimtransfer.com/en/frequently-asked-questions
16 seated minibuses that feature AC and 3 point seatbelts are used for the shuttle transfer. For the passengers' comfort, the seats can lean back and extend sideways. During shuttle transfer, the vehicle will not stop on more than five locations, making the commute faster. A maximum of 2 pieces of luggage can be taken per passenger, and additional payment may be requested for extra luggage.
Since the shuttle transfer does not work for one individual, it may not go off certain routes. You can contact with our call centre about routes that are not listed, and let the know. The designated maximum time the vehicle can wait in the airport is 55 minutes.
Shared transfer routes
The shared transfer routes differ between the Antalya and the Alanya airports. The most demanded shared vehicle route is Antalya transfer, which departs from Antalya airport to Kargıçak. The shared vehicles depart from the Antalya Airport and can drop you off at the most suitable location any of these regions in this order:
Serik, Side, Kumköy, Kızılot, Kızılğaç, Titreyengöl, Avsallar, Türkler, Okurcalar, Konaklı, Alanya, Oba ve Mahmutlar.
The Gazipaşa airport is in high demand in shared transfer. The shared transfer for Gazipaşa-Alanya airport departs from the airport and can drop off passengers in these regions in the same order:
Kargıcak, Mahmutlar, Oba, Alanya, Konaklı, Avsallar, İncekum, Türkler, Okurcalar
Our transfer vehicles will take and drop off our passengers to any hotel in the mentioned regions.
Flight Tracking
You've made a transfer reservation but your plane is on delay? Don't worry! Our transfer system will track your flight for any delays and arrange you with the most suitable vehicle. You will be directed to another available shared vehicle once you've reached the airport.